Error message: IE or Edge based error message - This page can't be displayed.
Internet Explorer or Microsoft Edge Error Message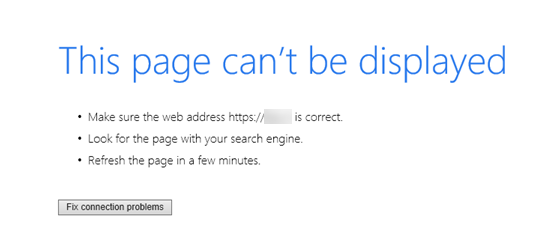 Description:
May occur after opening up your Catalyst enabled Excel cube file after submitting through the login dialog window. Once logged in, the dialog window will change and refresh to show a similar message as to the one above, stating you essentially don't have access to the internet. Usually this means that Internet Explorer has been disabled on your machine, via local administrator intervention.
Solution:
Your local IT team will need to reenable Internet Explorer for you to be able to use Catalyst and files that use Catalyst connections.
Note that IE will no longer be required in these instances once IE is sunsetted by Microsoft on June 15th, 2022.
Steps to take:
Go to Control Panel > All Control Panel Items > Programs and Features and select Turn Windows features on or off. Deselect Internet Explorer and hit OK. Restart the computer. Go back to the same path and re-select Internet Explorer to re-enable it and hit OK.

Reset IE11. In the IE settings, on the Advanced Tab, click reset, then confirm. You do not have to delete personal data.

You're done!