Options to connect to Cubes
In order of most-secure, to least-secure.
1. Macros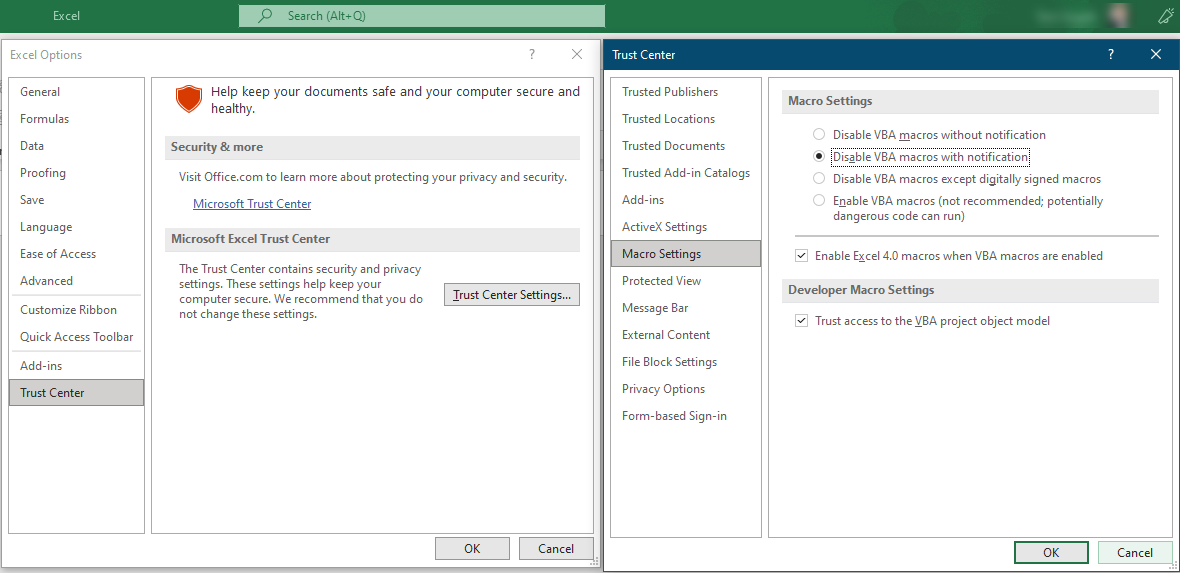 VBA Office Bridge files use and allow Macros to run in Excel via the Microsoft Trust Center options. It is the default method for viewing and using Catalyst enabled cube files. These files end in the .xlsm file format, which means they are macro enabled files and thusly connected to EBM Office Bridge. Without that connection your files will be limited and will not pull directly from Catalyst. Your IT department may have security hidden, which could limit your ability to enable Macros (as seen above). If this is the case, you have additional options below. Microsoft additionally has imposed strict guidelines on macro-enabled files to harden security. This method currently uses and requires Internet Explorer to be installed on your machine.
2. Plugin for Excel
This method is used for macro-disabled files (.xlsx) and is a work around as such to gain connection to macros in Excel. It still requires Internet Explorer to be installed on the machine and requires that your local security settings allow you to install add-ins to Excel and/or programs on your machine. You can an .exe or MSI plugin to essentially switch to an MSI-based Office edition, rather than VBA-based. More instructions can be found here.
3. Macro-free cube file
This is a 'flat file' which you'll need assistance and specific instructions from us and your IT team to connect the cube to. This is not ideal. For more information, reach out to your local IT team and say that if they won't allow a VBA macro-enabled Excel file based on their security restrictions, then you'll need a macro-free cube file (flat file).
4. EBM provided file (one-time)
The fourth method is one that we can accommodate on occasion, when the user's local security settings are so strict there are no other alternatives. In this scenario we would provide you with a file that's an established connection to the cube along with prepopulated credentials already installed. There are many downsides to this, which most notably are security-related. It isn't secure and there are no user permission variations.
5. Online Pivot Table
This method would allow you to gain access to the data through an online pivot table, but it is not ideal for the simplest reason that it is not in Excel. Therefore you are extremely limited in what you can do with the data. Reach out to us if you want more information on this method.