As great as Microsoft Excel is and has been for all of us, we all know it can also create some unique frustrations. One of its issues is its ability to maintain network connections to its files over stretches of time. Files become stale and eventually lose connection. If this has happened to you, read on below.
I added a hierarchy in Catalyst but it's not showing up in the cube!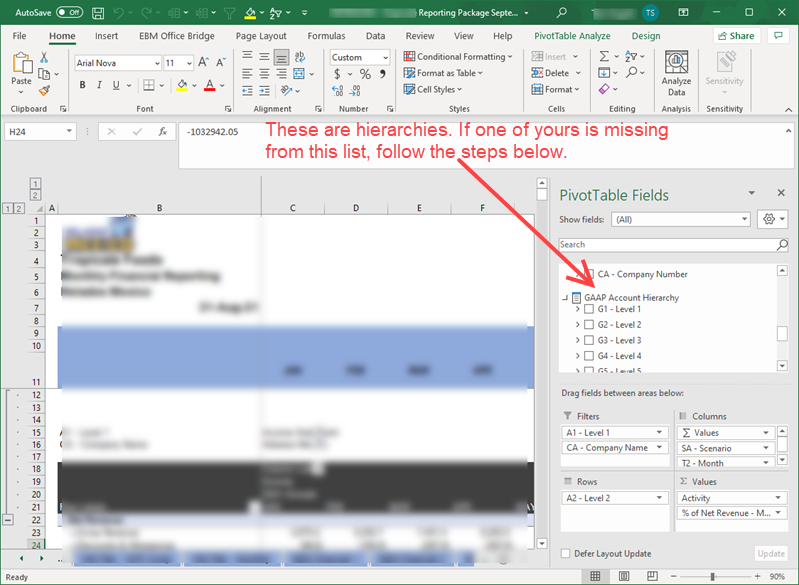 This can occur with stale files and can be proved out if you're seeing the hierarchy show up in the pivot table options in a new cube (EBM Office Bridge > Insert Cube), but not in your existing tab(s) in the file. If this happens to you, follow the steps below.
In the EBM Office Bridge ribbon, click Refresh All Cubes. This may restore the connection that's gone stale. If that doesn't work, move on to step 2.

Another way to restore the connection is to go to the Data tab in Excel and then click Refresh all.

Alternatively, you can restore the individual module you need to work on. This can be more of a targeted and quick restoration. To do this, under the Data tab click on Queries & Connections.

If the above do not work, the next tried and true hotfix is to do the good ole' restart Excel and restart the machine.
Finally, if you're still unable to see your addition, please reach out to support by submitting a ticket.