Error message: Either Excel will spin and eventually timeout and shutdown or it will require a new login through a Microsoft SharePoint dialog login window. 
SharePoint Login Window Required After Refreshing Cube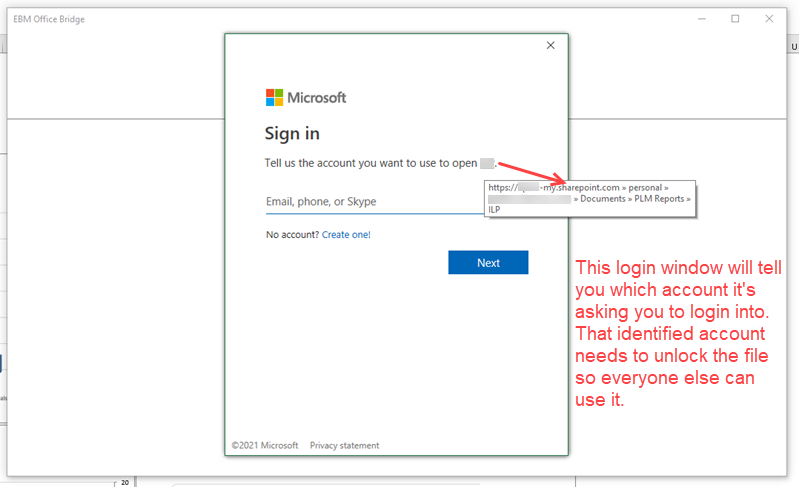 Description: Occurs after opening up an Excel file and attempting to click the "Refresh All Cubes" button in the EBM Office Bridge ribbon at the top. The file might load for a while and then just shut down or quit Excel completely. Or it will eventually prompt you to sign in using a Microsoft SharePoint dialog window, asking you to "Tell us the account you want to use to open...". Do not attempt to login, as it won't let you. It means someone else on your team has used this file, has it locked, has locked a different file that's referenced in your file, or that it was locked while being shared via the SharePoint cloud.
Notes: This may occur with an Excel file that is connected to EBM and that is also being used by other members of your team, which may or not contain locked tabs or associated files that are locked or were locked by means of being shared to themselves or others using Microsoft SharePoint file sharing (e.g. via Teams, Outlook, or Microsoft Cloud Services like Office Online).
Solution: The short answer is to click the X at the top right until they go away. If a new dialog window pops up at the end asking if you'd like to Update Links, select "DO NOT Update Links" and you should be to work on the file as expected.
The long answer is related to Microsoft Sharepoint, as this error indicates there are other MS Sharepoint users associated with the file. Hover in the Microsoft SharePoint login window to see which user account has the file locked down. Reach out to that individual and ask them to confirm they do not have any locked tabs or associated sheets or workbooks in the file or referenced. Make sure they haven't enabled any personalized security on the file or subsequent relatives, and haven't been sharing it in a way that would automatically inject higher security requirements. Then have them close out of the file(s) and Excel. You do the same and then attempt to reopen the file and click Refresh again. At this point you may need to run the file through the Cube Updater to reestablish its connection(s).