Error message: No message. Noticed when a field in the PivotTable options isn't present when it should be. Usually a Hierarchy.
You may also have luck following the steps in the adjacent help site article here.
Missing fields in the PivotTable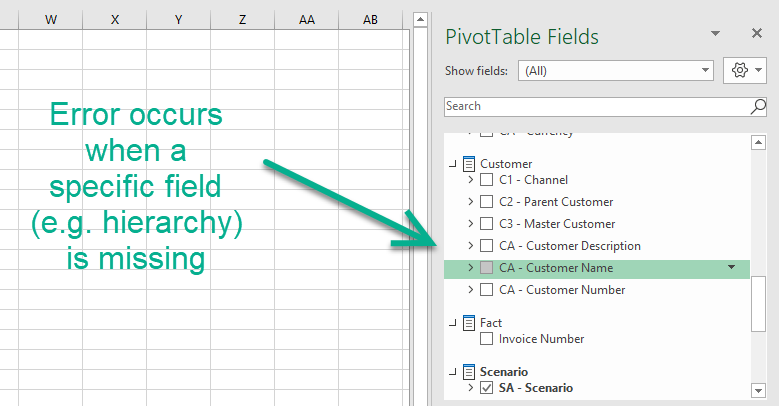 Description: May occur after making a change to a Hierarchy in Catalyst, such as adding or renaming a Hierarchy. If presented, it means the changes aren't reflected in the PivotTable fields within the Cube report. The cause can be a number of things, including a timing issue with the data sync, or a timeout issue when too much data is included in the attempted display.
Solution: Currently, the fix is:
Insert a new Cube from the EBM Office Bridge ribbon.




Right-click into the new blank Cube and select Refresh. This will refresh all Cubes in the file, which should successfully reload the new Hierarchy or the changes you've made that weren't showing.



*

If that doesn't work

: Remove the Cube tab that's not showing the changes you want in the PivotTable fields from Excel completely. Then refresh the Cubes the same way as above. Then readd the Cube.