Error Message: You have entered potentially harmful data. This application does not allow text to be enclosed in less than (<) and greater than (>) signs (e.g. <Over>). 
Export Automatically Logs User Out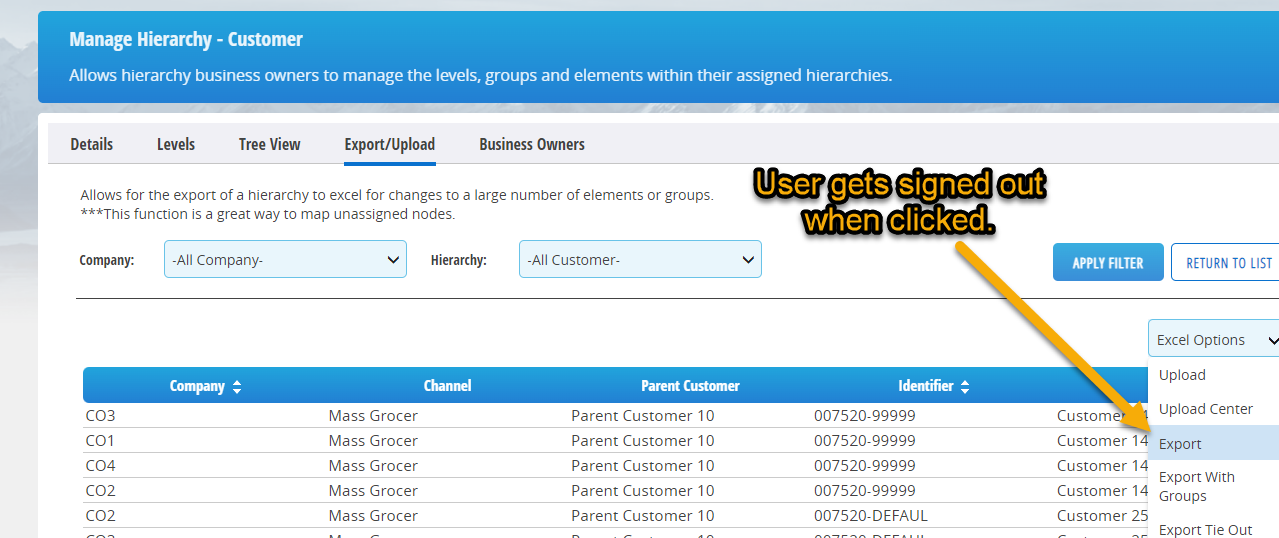 Description: When attempting to export a Hierarchy export/upload Excel sheet, the user is auto-logged out of the UI. May only occur for a certain Hierarchy, rather than all. Likely not user-dependent (e.g., it will happen to all users attempting to take this action).
Note: The probable cause is that unprintable characters are being used in the data. Likely, one of the Nodes or Leaves tables of the Hierarchy contain a series of characters that are causing the jstree, and by extension, the export process to break. Common characters that could cause this error are the less-than and greater-than symbols ("<" and ">"). They may show up in a Node or a Leaf table through an Upload, an Automated Hierarchy, a Direct Insertion, or a Statement Update. Nodes are not shared between Hierarchies, whereas Leaves are. Leaves are the more granular data point, which is likely where the error lies, within those relevant tables.
Solution: Submit a ticket with a link to this article or the above description/note. Our EBM Software Data Integrations team will have to purge those characters from the tables, as well as find out how and why they were present to begin with in order to prevent this from happening in the future.