Error message: Can't find project or library. Cannot run the macro 'GetVisibleEBMDataTools'. The macro may not be available in this workbook or all macros may be disabled. 
Can't Find Project or Library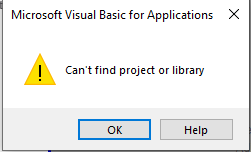 Description: May occur when opening a cube or reloading all cubes via the EBM Office Bridge option.
Solution: Run this file through the Cube Updater, which will fix the corruption in the file.