You can reverse or flip the value of a data record, account, or other bucket of data by flipping its sign. This is often already done for you in implementation, but there may be instances where you'll need to adjust these yourself.
Notes
Sign flip does not apply to financial overrides or financial planning, because there is no delineation of debits or credits in these modules.
For example, if a negative revenue amount was to be uploaded into financial overrides or financial planning, it would make the amount a negative number.
For a detailed breakdown on overrides, check out our FAQ here.
Why use sign flip?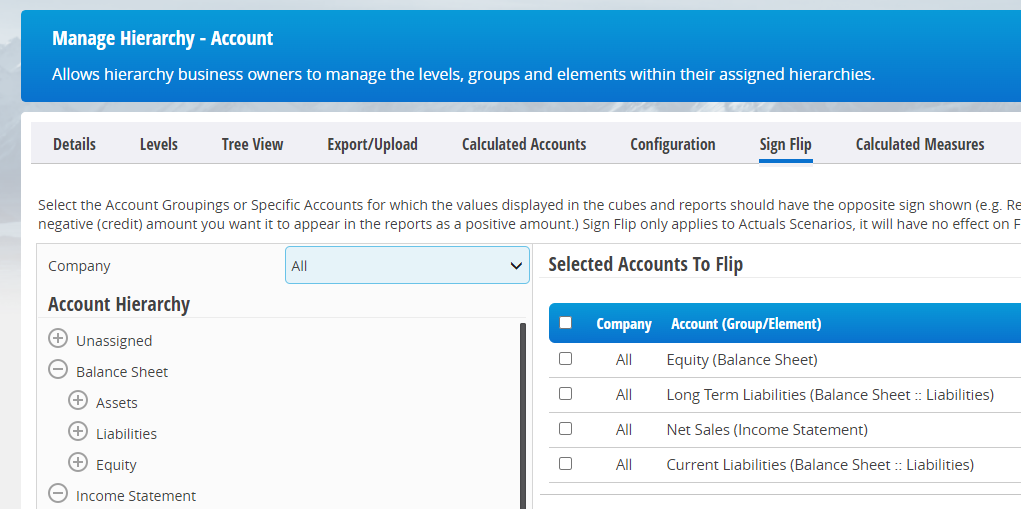 The most common use case for sign flip will be Liabilities (Balance Sheet), Equity (Balance Sheet), and Revenue (Income Statement). For example, if you think about revenue, it has a normal credit balance. To have a credit balance that means it will come through as negative in most accounting systems. But when we look at revenue as an output we don't want to see it as a negative. This is why we might flip its sign so that something like sales will show up as a positive number.
Flipping signs

Go to the Administration panel.
Select Hierarchy under Site Management.
Edit the Account hierarchy.
Toggle to the Sign Flip tab.
Choose from the list on the left and add to the section on the right to include in the list of sign flipped groupings.
Notes
Sign flip only occurs at the Primary Account hierarchy in your Catalyst instance and applies only to Actuals Scenarios, not to Forecasts or Budgets.
It's stored at any level, grouping, or individual element within that structure. You can choose a big bucket, like Liabilities or get even more granular and just flip Net Sales.
Because hierarchies are just a different representation of the same data, at the end of the day each leaf in the account hierarchy is either sign flipped or not.