Catalyst Planning Overview
Planning in Catalyst includes a Financial Planning module where you can plan, budget, or forecast at the Summary, Account, Balance, or Detail level. The other planning module we provide is the Profitability Planning module, where we allow planning for Volume at the Item and Customer level, as well as Rate planning.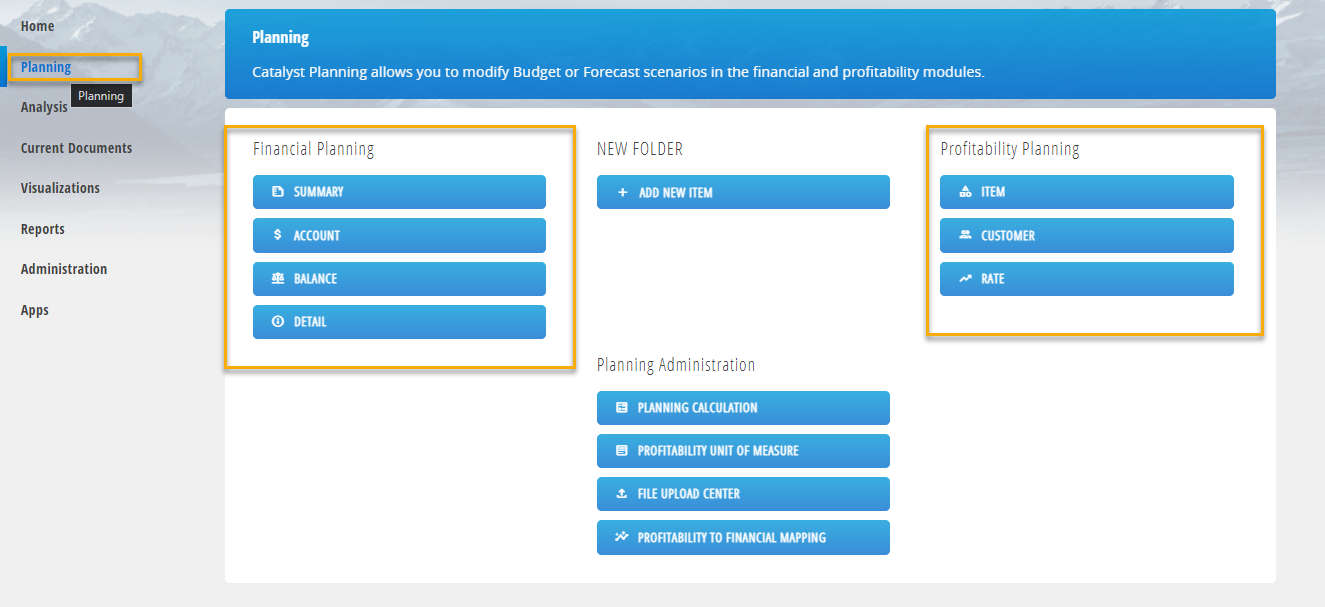 Financial Planning
Planning in Catalyst allows users to seamlessly input their financial plan. Financial, or G/L planning, allows users to generate forward looking budgets, plans and forecasts for the P&L and Balance Sheet. The three primary pages for Financial Planning are Summary Planning, Account Planning, and Balance Planning.
Summary Planning allows users to plan at a summarized level of the Income Statement or Balance Sheet. This would be for users who do not budget at the GL Account level. Account Planning allows users to input data at the account level by monthly activity. This would be most common for inputting Income Statement data. Balance Planning allows users to input data at the account level for month end balances. This would be most common for inputting Balance Sheet data.
Profitability Planning
Often thought of as Volume Planning and Rate Planning. Volume Planning allows for individual users within an organization to forecast sales based on gross sales or unit volume. The volume of units sold may be planned at the item and/or the customer level. This tool is particularly useful for members of the sales team as it provides an easy way to create a bottom-up budget build. Rate Planning lets you manage your selling price, standard cost and similar things. Catalyst can basically store the rates so that if you make a volume change, the sales will recalculate automatically.
Planning Scenarios
Before you can begin to plan, budget, or forecast you'll first have to create a scenario for your plan. The prior link will help you get started with a planning scenario. You can also view our detailed planning tutorials for special context.