Error message: Run-time error '1004': Initialization of the data source failed AND/OR ConfigurationComplete - 91 - Object variable or With block variable not set.
Immediate error after pulling down fresh cube and logging in
Description: Unable to see an actual pivot table in Microsoft Excel after downloading a fresh Cube file from Catalyst. Once the user is prompted for their credentials and enters them, they immediately get the error below. No pivot table ever shows up before or after clicking OK.

From there, click OK to bypass the message and then attempt to insert a cube into the same file from the EBM Office Bridge ribbon at the top of Excel. Upon attempting to do that, the user will get the following message before any login screen shows up.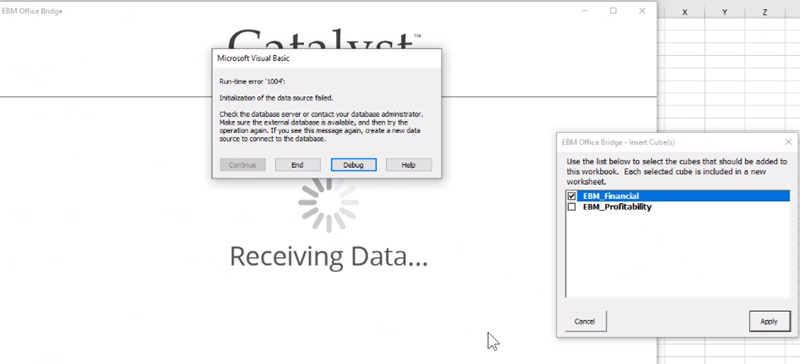 Solution: Confirm that this only happens on your machine, by either asking other colleagues to try it themselves or using another machine yourself to attempt to open a new cube. If it is exclusive to your machine, the fixes are to first attempt a Microsoft Office 365 repair, and if that doesn't work, to then try a full reinstall of Excel. Your IT dept. should be able to assist with either job.