Creating a new budget or forecast scenario
Before a budget or forecast scenario can be loaded into Catalyst, that Scenario must first be created. To create a new scenario: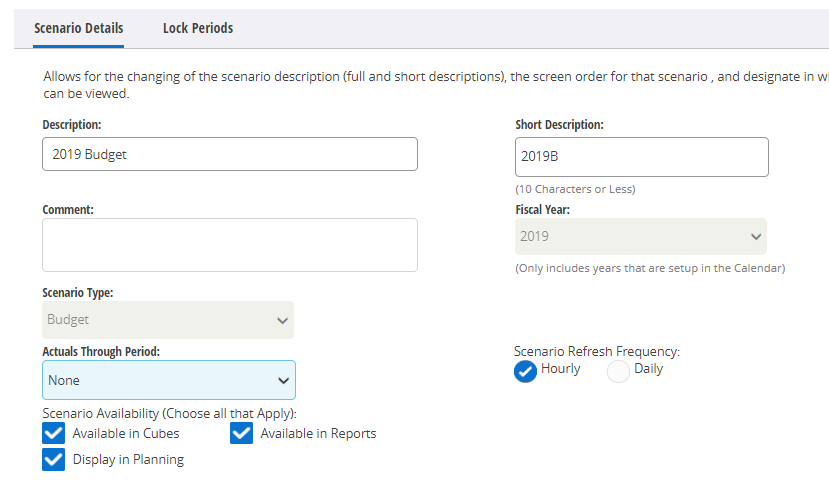 Navigate to Administration > Scenario and click the Add Scenario button at the bottom right.
Type in a title in the Description field. Common example and format: "2022 Budget".
Type in a short title in the Short Description field. Common example and format: "2022B".
Include any comments in the Comment field (optional).
Select the fiscal year this budget or forecast relates to.
Under Scenario Type, choose either "Budget" or "Forecast". The logic in Catalyst is the same for both options, but the distinction is available so you can differentiate the annual budget versus a partial-year forecast.
Choose whether or not to Lock (editable) or Unlock (uneditable) the scenario.
Define how often the scenario should be refreshed (e.g. Hourly or Daily).
Decide scenario availability. Most commonly all three options are selected (Cubes, Planning, Reports).
Actuals Through Period: When creating a forecast or budget scenario, you have the option to prepopulate the scenario with data from other scenarios, as well as link certain periods of data to Actuals. If a month other than "None" is selected in the Actuals Through Period dropdown menu, the planning scenario will be linked to Actuals. Subsequently, if Actuals updates in those months, the planning scenario will update accordingly. You cannot edit those periods in planning.

Click Save when done.
To change the sort order of your scenarios, click Return to Scenario List at the bottom right and then select "Sort Order". This will change the order in which scenarios are shown in Catalyst and in the cubes.