As a Microsoft partner, EBM utilizes Microsoft Power BI, which is a business intelligence tool that analyzes and visualizes data to help organizations make data-driven decisions.

Power BI can connect to different data sets, clean and transform the data into a data model, and create charts and graphs to visualize the data.

Users can share the reports and visuals with other Power BI users within the organization.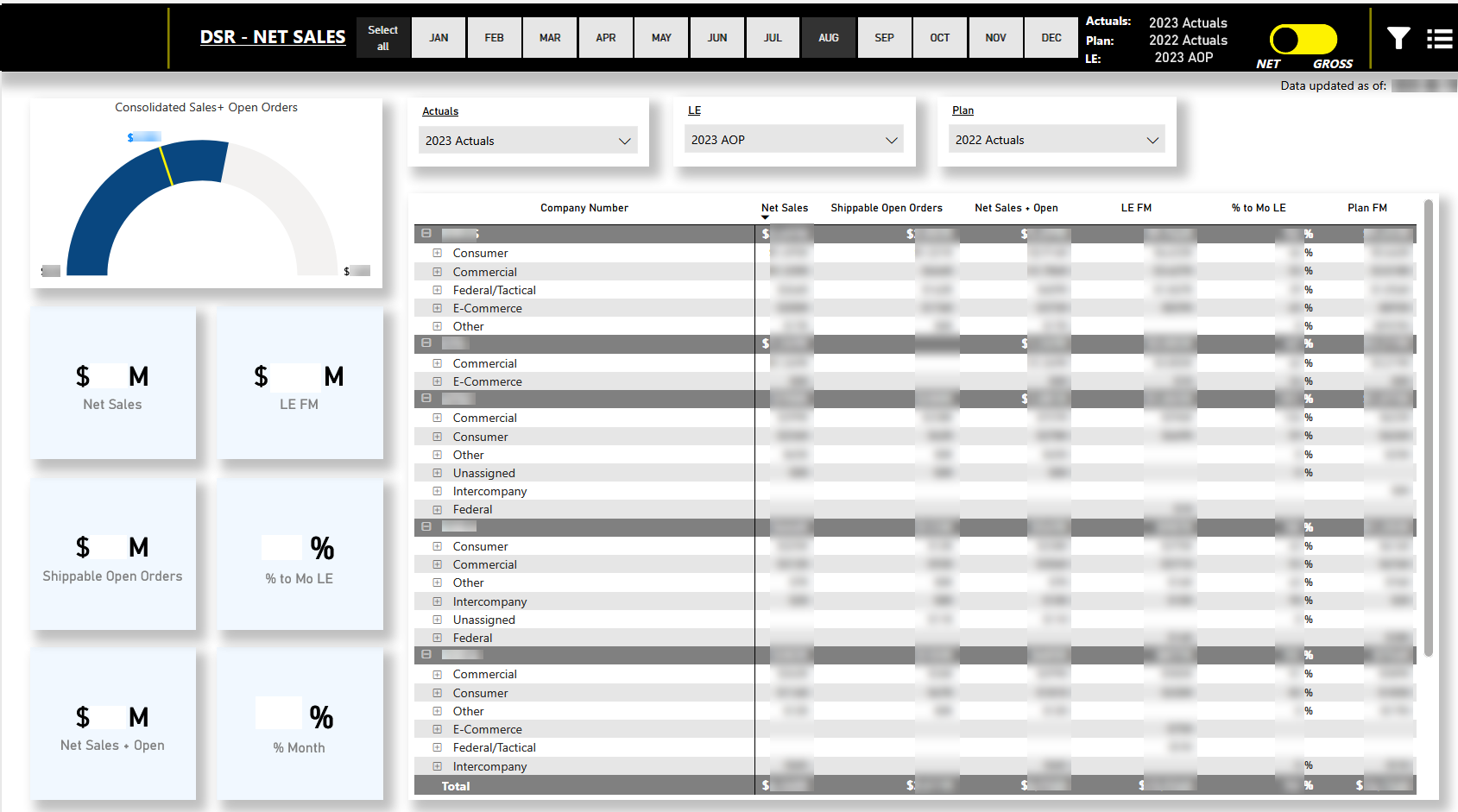 This articles contains the following topics:
Benefits
Power BI powered Catalyst Visualizations provide more robust internal and external analyses & KPI reporting.
Benefits of Catalyst Visualizations
Improved Decision-Making: Enables you to make informed decisions by providing real-time insights and trends.

Cost-Effective: Out of the box dashboards are no additional charges. Reports are embedded directly into Catalyst.

Scalability: Dynamically updates with data changes, growing volume and user bases.

User-Friendly Interface: Allows non-technical users to view reports and dashboards. Allows technical users to build reports and dashboards.

Integration with other Microsoft Products: Can be exported with other Microsoft products, including PowerPoint & PDF.
Business Applications
Sales and Marketing: Analyze customer behavior, sales trends, and marketing campaigns, allowing your business to optimize your strategies.

Financial Analysis: Analyze financial data, including revenue, expenses, and profitability, allowing businesses to make informed financial decisions.

Human Resources: Analyze employee data, including attendance, performance, and turnover, allowing businesses to optimize their HR strategies.

Operations and Supply Chain: Analyze supply chain data, including inventory levels, production, and logistics, allowing businesses to optimize their operations.
Overview
Catalyst leverages Microsoft BI (Business Intelligence) technology to provide out-of-the-box embedded reports available to you in your Catalyst website, with additional offerings such as custom reports and MSFT PBI Service and Desktop accounts to build and edit your own reports.
What is Power BI?
Power BI is a collection of software services, apps, and connectors that work together to turn your unrelated sources of data into coherent, visually immersive, and interactive insights. Your data might be an Excel spreadsheet, or a collection of cloud-based and on-premises hybrid data warehouses. Power BI lets you easily connect to your data sources, visualize and discover what's important, and share that with anyone or everyone you want.
What are embedded reports?
Embedded reports are what are found in your Catalyst website under the Visualizations tab. When you select one of the Catalyst Visualizations a new tab will open taking you directly to the embedded version of the Power BI report.



With the Embed option for Power BI reports, you can easily and securely embed reports in internal web portals like Catalyst. These portals can be cloud-based or hosted on-premises, such as SharePoint 2019. Embedded reports respect all item permissions and data security through row-level security (RLS) and Analysis Services tabular model object-level security (OLS). They provide no-code embedding into any portal that accepts a URL or iframe.
For a full breakdown visit Microsoft's host of tutorials and instructions.
How to embed Power BI reports into portals
This only applies to users creating and building their own reports that want those reports to be embedded in the Catalyst website. Reach out to Support and include the embed code iframe HTML snippet provided to have the report embedded into the website. Note: We do not support or maintain custom reports that are not built by EBM.
Open a report in the Power BI service.

On the File menu, select Embed report > Website or portal.

In the Secure embed code dialog, select the value under Here's a link you can use to embed this content. Or if you'd like to use an iframe in a blog or website, select the value under HTML you can paste into a website.
What is Power BI Desktop?
Power BI Desktop is an optional free application you must install on your local computer that lets you connect to, transform, and visualize your data. It is not required in order to view your embedded reports from within Catalyst. With Power BI Desktop, you can connect to multiple different sources of data, and combine them (often called modeling) into a data model. This data model lets you build visuals, and collections of visuals you can share as reports, with other people inside your organization. Most users who work on business intelligence projects use Power BI Desktop to create reports, and then use the Power BI service to share their reports with others.
The most common uses for Power BI Desktop are as follows:
Connect to data.
Transform and clean data to create a data model.
Create visuals, such as charts or graphs that provide visual representations of the data.
Create reports that are collections of visuals on one or more report pages.
Share reports with others by using the Power BI service.

For a full breakdown visit Microsoft's host of tutorials and instructions.
What is Power BI Service?
The Microsoft Power BI service (https://app.powerbi.com), sometimes referred to as Power BI online, is the software as a service (SaaS) part of Power BI. In the Power BI service, dashboards help you keep a finger on the pulse of your business. Dashboards display tiles, which you can select to open reports for exploring further. Dashboards and reports connect to datasets that bring all of the relevant data together in one place. Think of Power BI Service as the method in which your reports are stored and shared, including as embedded reports in Catalyst.

For a full breakdown visit Microsoft's host of tutorials and instructions.
Getting started
Your Catalyst subscription includes standard out-of-the-box reports, visualizations, and dashboards displaying your financial and profitability data in interactive models, graphs, charts, and tables. Everything related to these dashboards will be outlined during your implementation, including how to access and use them successfully.
How does Catalyst use Power BI?
As part of your subscription, our Visualizations and BI (Business Intelligence) Teams build several out-of-the-box reports for you using Microsoft Power BI, specifically MSFT PBI Desktop and Service. These standard reports are usually Financial and Profitability reports. If you have other datasets you're interested in modeling, such as POS, Inventory, AR/AP, etc. our team offers custom report builds as a service.
These standard reports are then embedded directly into your Catalyst website for easy access. They are responsive, mobile-friendly, interactive, and live.
During implementation our Customer Success team trains you and your team to use and consume these reports so you're armed and ready to utilize this data. We teach you how to subscribe to these reports and how to manage them.
The CSX team will provide your power users two logins to Microsoft Power BI Desktop and Service that your team can use, only if you choose to, in order to manage and build out additional reports on your own (not required).



Note

: Currently Power BI Usage Metrics doesn't support tracing usage from within embedded reports. Meaning, there are no reports you or EBM can run to understand how many of your users are visiting your Catalyst embedded visualizations.
Advanced usage
If ever you decide you want greater access to your reports, to build new reports, to connect new datasets, etc. you are granted two separate MSFT PBI Desktop/Service logins under EBM's license. Those logins are provided to you during implementation. Although we don't offer advanced training, support, or troubleshooting for any custom reports you build, the option is available to you.
Learn more about building your own reports in Microsoft Power BI Desktop and sharing them using Microsoft Power BI Service.