Each Catalyst website has a Visualizations section, which displays graphical representations of your data from the cube. Usually there will be a Financial and Profitability dashboard prebuilt for you, but you may have other reports as well. These reports are built using Microsoft PowerBI tools, which you have access to. Occasionally you will need to access these tools to make changes, such as at the beginning of a new fiscal year.
This article contains the following topics:
Catalyst Visualizations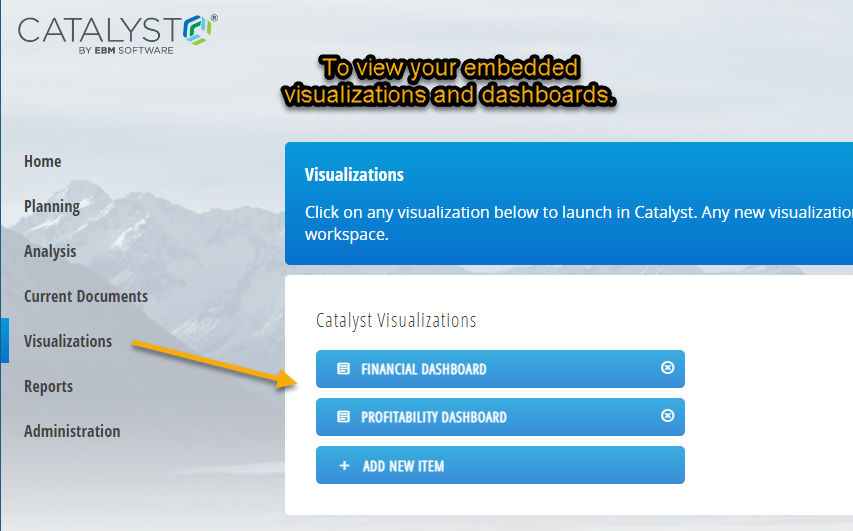 Visualizations are found in the Visualizations tab in your Catalyst website. Each report found in this section is linked to an embedded PowerBI report that was been built for you by EBM. They use datasets that get updated from the data lake utilizing the live data in your Catalyst system. Their purpose is to provide a visual and graphical representation of the data for easy consumption.
Reading your dashboards
These dashboards contain several reports with pertinent information, such as daily sales, trends, and comparisons to previous years or scenarios. After clicking into a dashboard, start exploring through the tabs at the bottom which will each contain a different slice of the data.
You can't break anything here, so feel free to change your filters any way you want to. The views will return to their original state after you leave the page.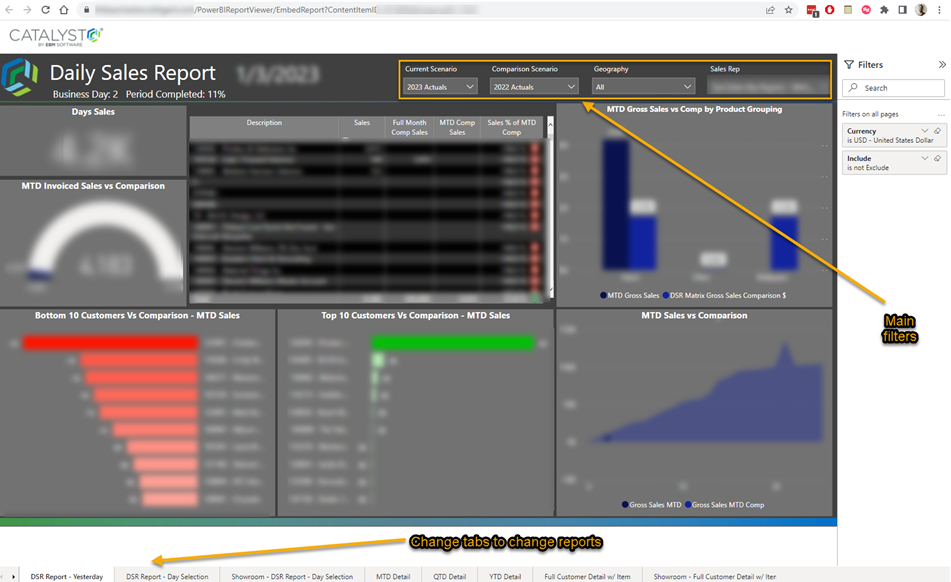 Editing your dashboards
Occasionally you may want to edit these dashboards and the reports within each dashboard. The only reason to edit these will be to change the filter selections in the initial view of each report. For example, upon the mark of a new fiscal or calendar year you will want to change the default view from 2022 to 2023.
When your visualizations are first set up you'll be given login credentials to access them in Microsoft PowerBI. If you don't have those, please contact your CSM or Support. It's also important to note that EBM Support is NOT the same as Microsoft PowerBI Support, who you can contact here.
To update your filter selections you'll need to login to Microsoft PowerBI with the credentials you were given by EBM (your username will be yourcompanyname@ebmcatalyst.com).


You can either use PowerBI Desktop or PowerBI Service to edit your reports. PBI Desktop is an app you download to your local machine, whereas PBI Service is a website you can access via any web browser. Both will work.


Once you login you'll see workspaces on the left side bar. Click yours.




Next, select the report you want to edit. Usually the report name will include the words Financial or Profitability, but you may have a different naming convention.




Once you select the report you can click Edit to start updating your selections within each filter present.




Click into the filter you want to change (e.g. changing 2022 to 2023) and change your selection. Repeat for any other filters and then click Save.




After you Save your dashboards will automatically refresh back in Catalyst. You're done!